Embracing a Dress Code
At Brookfield School, we cherish a sense of unity and pride through our mandatory dress code for Pre-First through 8th Grade students. To maintain a neat and uniform appearance, students are expected to adhere to the dress code guidelines outlined below. Let's come together in attire that reflects our school's values and promotes a conducive learning environment.
Backpacks:
For the safety and tidiness of our students and campuses, we will no longer allow roller backpacks of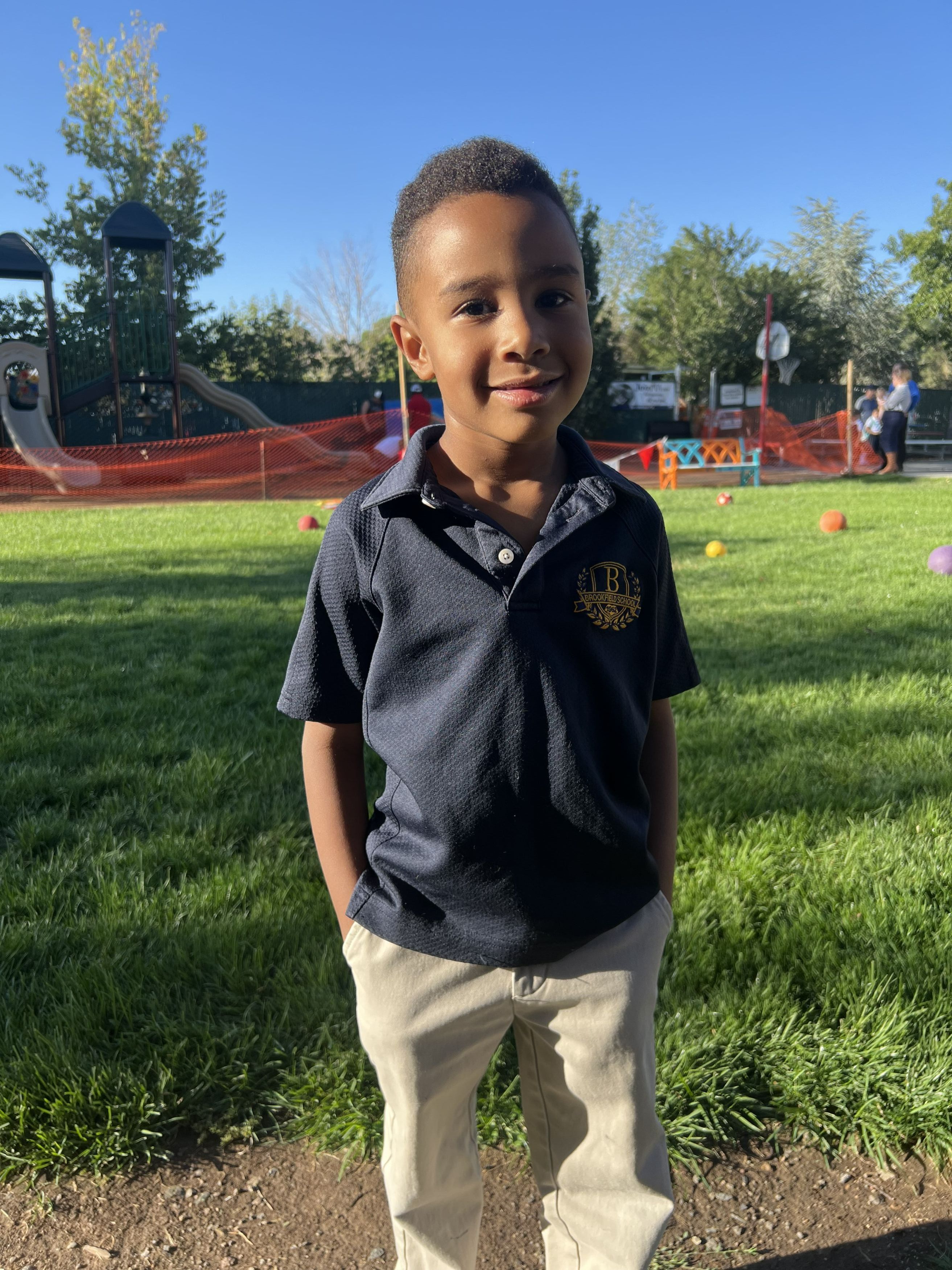 any kind at Brookfield School. Instead, we encourage students to use soft backpacks that they can comfortably carry on their backs. To ensure an appropriate fit for each grade level, please refer to the following guidelines:
Standard: 17" (Ages 8 and above)
Youth: 15" (Pre-K to 2nd grade)
Toddler: 12" (Ages 2 to 4)
Free Dress Days:
On "Free Dress" days, we embrace individuality while upholding modesty and neatness guidelines. Students have the opportunity to express themselves through their attire while following these simple guidelines:
Hair:
During instructional times, we encourage students to keep their hair away from their face and eyes to facilitate an uninterrupted learning experience. Hair color should be in natural or natural-looking tones, and modest highlights are allowed. While we celebrate individuality, extreme styles and unnatural colors are not permitted.
Jackets:
We promote uniformity in school colors for jackets, promoting a sense of belonging and unity among our students.
Makeup:
Students in Pre-1st through 5th grade are encouraged to embrace their natural beauty, while girls in 6th through 8th grade may wear light makeup in neutral shades.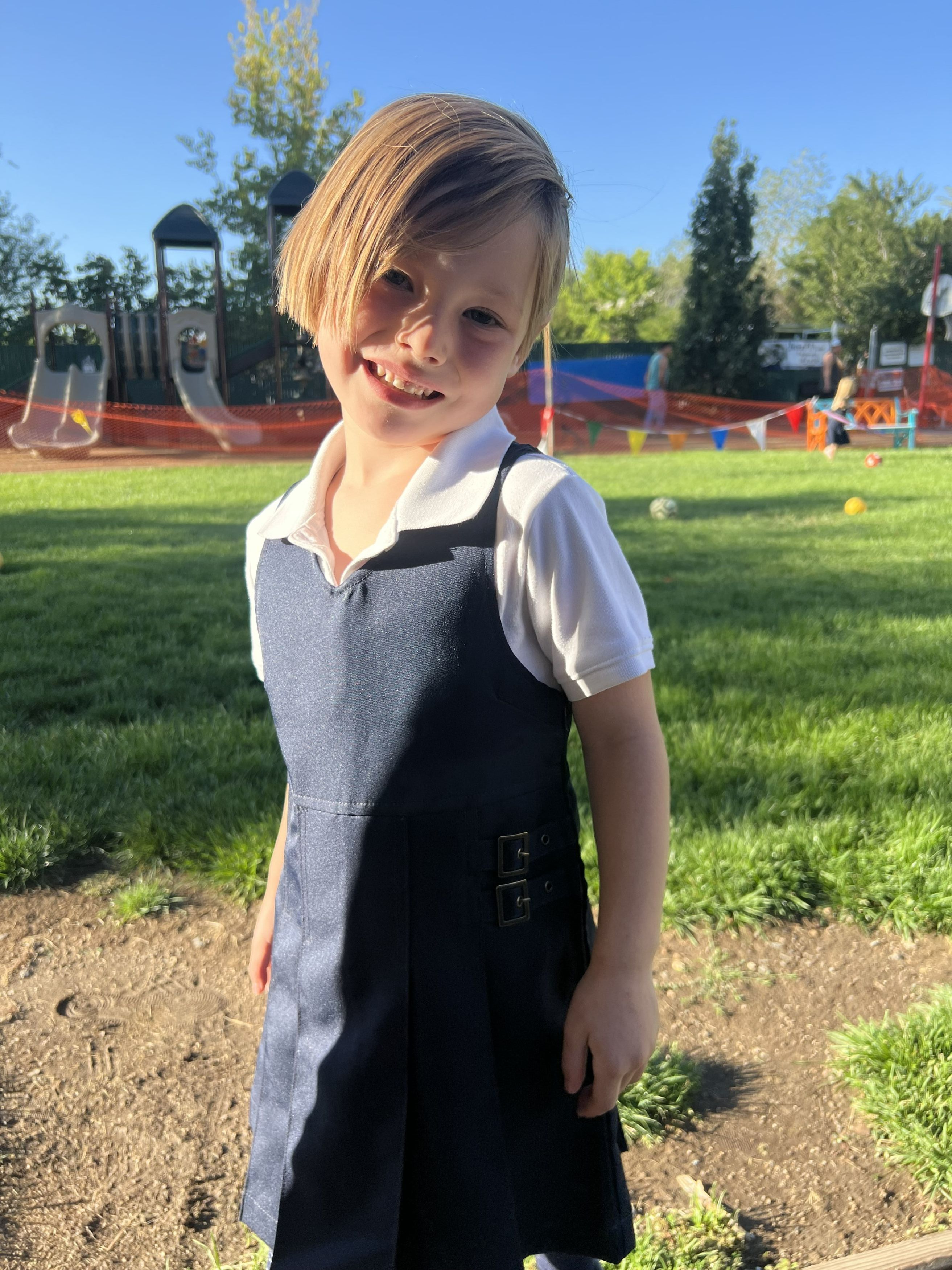 Pants/Shorts/Skirts:
Our dress code calls for khaki-style pants and shorts with button closures and zip-fly in khaki or navy color. While students in Pre-1st and 1st grade may wear pants with an elastic or tie waist, we avoid yoga pants, tight leggings, or skinny jeans. Additionally, shorts and skirts should be modest in fit and length, not shorter than 2" above the knee, and free from denim or cut-offs.
Shirts:
Collared, long-sleeve, or short-sleeve shirts in solid white or navy complement our school's uniform dress code.
Shoes/Socks/Tights:
Students must always wear closed-toe and closed-heel shoes, paired with socks or tights for maximum comfort and safety during active outdoor play.
Spirit Fridays:
While adhering to the dress code on regular days, students can proudly wear their Brookfield School Spirit shirts on designated Spirit Fridays, paired with uniform-colored pants.
Dress Code and Uniforms by Day:
At Brookfield School, we believe in fostering a sense of pride and unity through our thoughtfully curated dress code and uniforms. Please find below the dress code guidelines for each day of the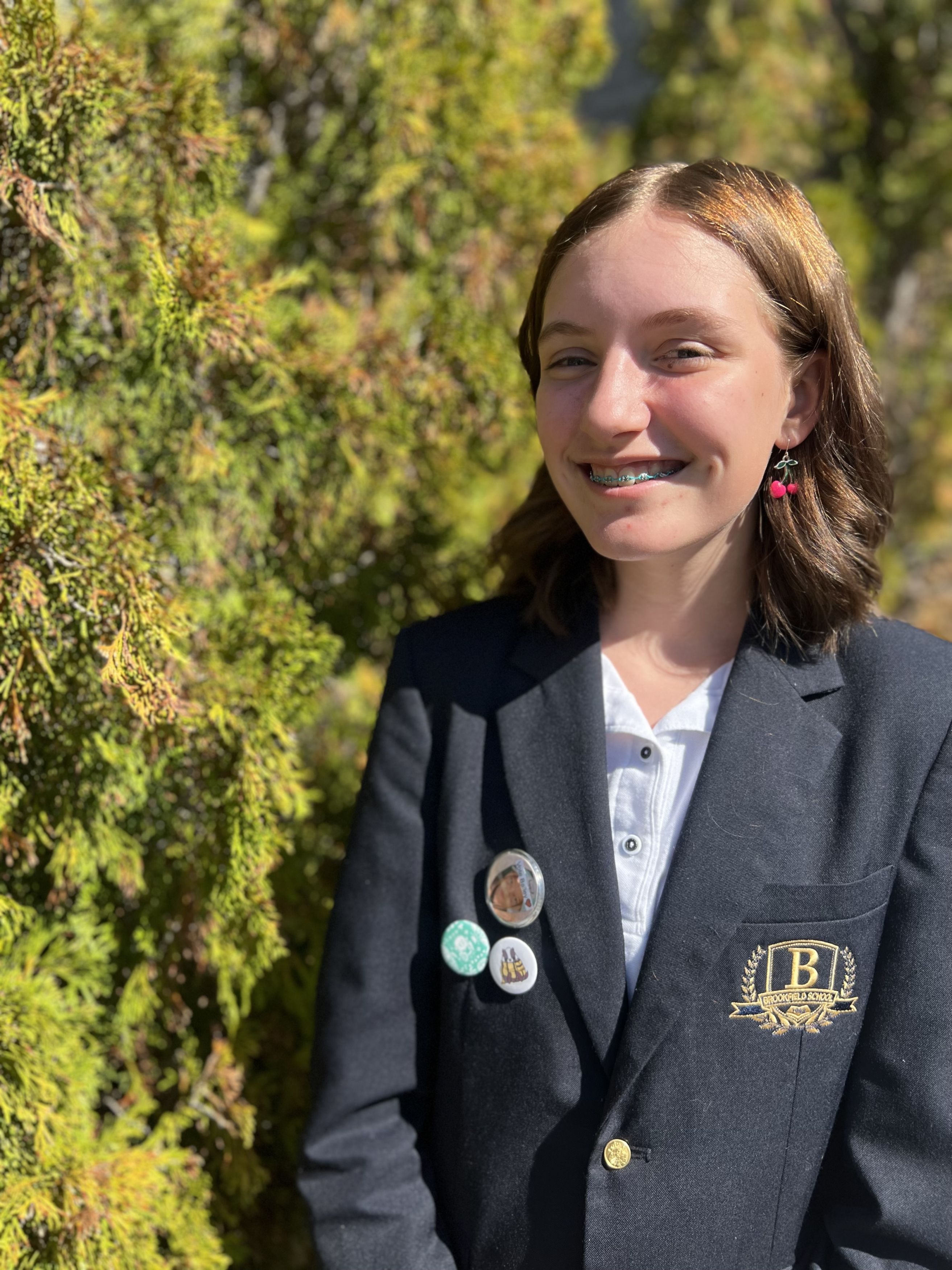 week:
Monday, Tuesday, Thursday, Friday:
Students are encouraged to exude confidence and style with a combination of the following attire:

White or navy collared shirt, long or short sleeves
Khaki or navy slacks, shorts, or skorts
Grade-level appropriate plaid dress or skirt (uniform items are allowed every day of the week)
Wednesdays or Field Trips (unless otherwise specified):
Uniform Dress

Boys:

Pre-1st through 4th Grade:

A crisp white collared shirt paired with navy slacks or shorts projects a polished appearance that stands out.

5th through 8th Grade:

Khaki bottoms paired with white collared shirts reflect sophistication and elegance.

Girls:

Pre-1st and 2nd Grade:

A Classic Navy Plaid jumper accompanied by a white collared shirt exudes charm and grace.

3rd through 4th Grade:

Classic Navy Plaid skirts paired with white collared shirts reflect sophistication and elegance.

5th through 8th Grade:

Khaki bottoms paired with white collared shirts reflect sophistication and elegance.
Ordering Plaid Items:
For parents who wish to order plaid items, our partnered supplier is Land's End Uniforms, and the school plaid is Classic Navy Plaid. You may order plaid items and the Brookfield School blazer online at www.landsend.com/school using the code 900061771.